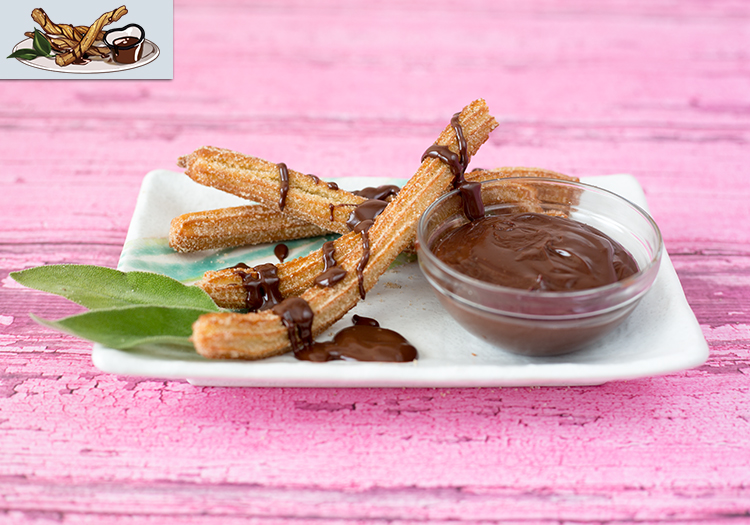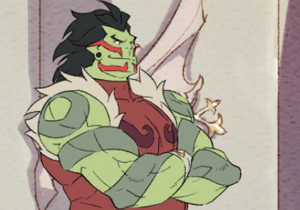 Battle Chef Brigade will be coming out this holiday season. The game's development is nearing completion and I cannot wait to get my hands on it. All the updates have got me extremely hyped. From the tweets about recording voices to the newest trailer, this game cannot come out soon enough. After getting really excited, I find myself looking through food from the game and thinking what I could recreate in the real world. The food art in this game is extremely motivating to me as a chef. I try to figure out how to get as close to the image as I possibly can. It's only a matter of time until I make even more recipes.
This time around, we are frying up some delicious Verskit Tail Churros. These little fried treats have been a dish I've wanted to make for several months. The first time I saw this meal in game I immediately had a craving for some churros. My best option then was to run out to my local Mexican bakery, get a handful, and eat them all. Now after some experimenting I'm able to make a batch here at home. Frying can be time consuming and tiring. These fried treats will take a bit of work but I promise you they are delicious. The chocolate sauce that pairs with this is amazing. I made a bit extra and have it in my refrigerator. I could totally just eat it by the spoonful but for now I'll behave myself and teach you how to make these delicious Tail Churros.

Ingredients:
Churros
peanut oil
2 cups all-purpose flour (290 g)
1 tsp ground nutmeg (.5 g)
½ tsp rubbed sage (2 g)
2 cups milk (500 ml)
4 tbsp butter (58 g)
1 tbsp sugar (16 g)
1 tsp salt (3 g)
1 cinnamon stick
1 vanilla bean, split
2 eggs
Spice Topping
1 cup sugar (240 g)
1 tbsp cinnamon (5 g)
1 tsp sage (1 g)
Chocolate Sauce
½ cup dark chocolate (100 g)
½ cup heavy cream (120 ml)
¼ cup dulce de leche (85 g)
1 tbsp butter (15 g)
1 tsp salt (3 g)

Combine the flour, nutmeg, and sage in a small bowl.
In a saucepan, heat the milk, butter, salt, sugar, cinnamon stick, and vanilla bean over medium-high heat. Bring to a boil and then turn off the heat. Let it sit for at least 10 minutes to infuse the flavors together.
Remove the cinnamon stick and vanilla bean. Scrape the vanilla bean and place the seeds in the heated milk. Bring back to a boil and then turn off the heat again.

Add the flour mixture in and mix with a spatula until it forms a smooth dough.
Allow the dough to cool. While the dough is cooling, pour 1 ½ inch worth of peanut oil in a deep pot. Begin to heat up to 350°F.

Once the dough has cooled, mix in the eggs one at a time. Mix until completely smooth.
Place the dough in a pastry bag with a star tip. On a plate, combine the sugar, cinnamon, and sage and set aside.

After the oil has heated, squeeze a 3-4 inch long strip of dough into the hot oil. Repeat this 3 times per batch. If the dough is sticking to the end, use a spatula to separate it from the star tip. Use a pair of tongs to shape the churro into a straightish line. Fry the churros for about 2 minutes, flip, and fry for another 2 minutes or until they are golden brown.
Transfer the fried churro onto a plated lined with paper towel to remove any excess oil. Repeat frying until all the dough is fried.

Once the churro is cool enough to handle toss in the sugar, cinnamon, and sage mixture. I recommend serving these hot.

To make the sauce, combine the dark chocolate, heavy cream, dulce de leche, butter, and salt in a saucepan over medium-high heat. Heat until everything is well combined.