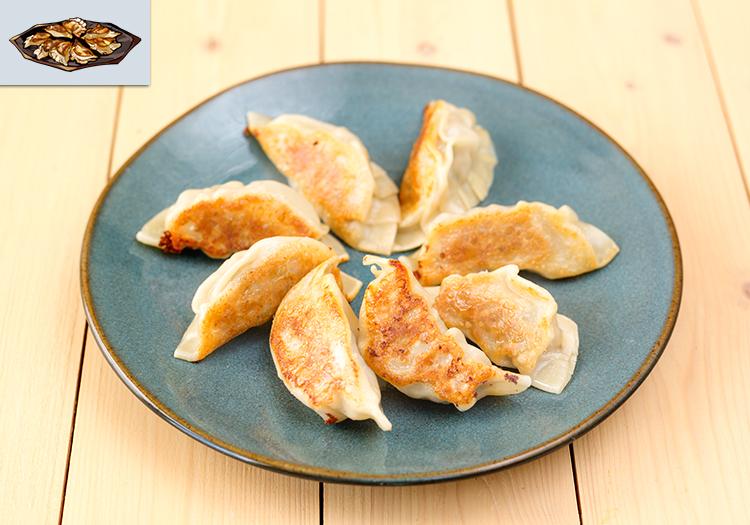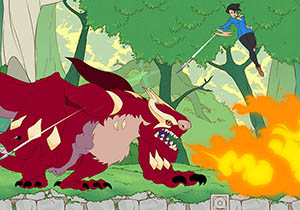 Mina must be one of the bravest chefs of all time. I don't think I could pick a fight with a wild dragon for the sake of a great dish. I bet the adrenaline rush of becoming part of the Battle Chef Brigade must keep her going. I may not be slaying any dragons, but cooking with strange ingredients is totally something I could do. When I cook, I like to experiment with ingredients and see what I can come up with. Honestly the cooking portion of the competition would feel like a normal weekend of cooking for me. All this talk about cooking is making me excited for the game. It is so close I can taste it!
Time to cook up another part of a dragon. We can't let all that meat go to waste each time Mina takes one down. This time we are going to be creating Dragon Heart Dumplings. I love dumplings. How could you go wrong with pan-fried dough pockets filled with meat and vegetables. This recipe will make a lot of dumplings but they can be easily stored for future munching. You'll be eating dumpling for a while after making these.

Ingredients:
500 grams ground pork
400 grams napa cabbage
13 grams garlic cloves, minced
50 grams water chestnuts, minced
10 grams minced ginger
25 grams scallions, diced
70 grams shiitake mushrooms
2 tsp sesame oil
3 tsp soy sauce
1 tsp sake
2 tsp salt
½ tsp pepper
1 tsp sugar
gyoza wrappers, these are typically round
canola oil
½ cup water
Sauce
¼ cup rice vinegar
3 tbsp soy sauce
½ tbsp sambal oelek
Place the cabbage and 1 teaspoon of salt in a strainer over a bowl. This is done to remove excess water from the cabbage. Allow it to sit for at least 15 minutes. Take the cabbage and squeeze it to remove the excess water.
In a bowl, combine the pork, cabbage, garlic, water chestnuts, ginger, scallions, and shiitake mushrooms. Add the sesame oil, soy sauce, sake, 1 tsp salt, pepper, and sugar.

To make the dumplings, place a bowl of water next to the area you will be making the dumplings. Take a gyoza wrapper and place 1-2 tsp of the pork filling. Wet your index finger and wet the edges of the wrapper. Pinch one of the ends as pictured above.

Begin pleating one side to the other side. Pleat all the way through until the dumpling is completely sealed. Continue to do this until all the dumplings are made. You will get about 40-60 dumplings. At this point you can place those you won't be cooking into a ziplock bag and place them in the freezer. They will remain good for up to two months.

To cook the fresh dumplings, heat a pan over medium-high heat with canola oil. Add a single layer of dumplings and cook until the bottoms brown slightly at 1-2 minutes (3-4 minutes if frozen).

Once lightly browned, add the ½ cup of water and cover with a lid. Let the dumpling steam until the water has completely evaporated and the bottoms have crisped up slightly. If you want to brown more sides of the gyoza feel free to move the dumplings around to crisp up the other sides. Place on a plate to serve.
To make the sauce, combine the soy sauce, rice vinegar, and sambal oelek. Taste and adjust the spiciness by adding more sambal oelek to increase or soy sauce to decrease the spicy level.